Teak Refinishing at its Finest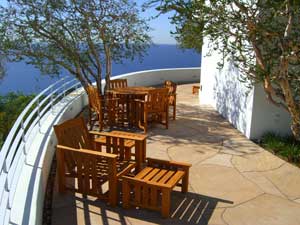 Outdoor teak furniture needs care to preserve a clean and protected look. Most of the time it is sold as the most durable wood known to mankind and nothing needs to be done to retain its natural color. Yes, the wood is tough and resilient to rot and wood boring insects but it needs to be looked after to keep up the natural blonde look. Obtaining proper knowledge and finding the time to protect your teak furniture may seem like a daunting task. It doesn't need to be. Our services include protecting teak furniture when it is new to preserve the natural look of the wood or promoting a natural weathered gray look. We also specialize in reversing the unwanted effects of weathering with our professional teak refinishing services. Our main objective is conveying proper information on achieving the desired look of your teak investment and following up with you to keep it in immaculate condition.
How Do I Know My Teak Furniture Needs Service?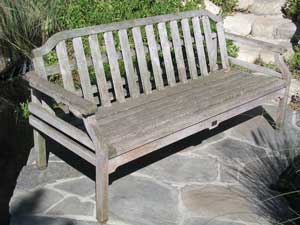 There are several answers to this question. Your teak furniture may have weathered gray over time due to natural weathering of unprotected wood. It may have also been improperly cared for due to substandard finishing products or refinishing techniques. Below is a list of common reasons why your wood may need teak restoration services:
The wood has weathered gray or black in color.
Excessive power washing or cleaning has created deep groves in the surface of the wood.
Inferior protector products including teak oil, varnish, urethane, solid stain, paint, and linseed oil have been applied to the furniture and it has begun to weather unevenly or peel.
Black mold or algae has taken over the surface.
Improper prep work or teak restoration process.
Over application of products.
Substandard teak repair cleaning techniques
What is the Best Time of Year for Teak Restoration and Service?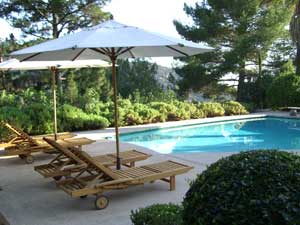 Southern California's year round weather is considered to be one of the most steady and unvarying climates in the world. We enjoy over 300 days of sunshine annually and spending time outdoors is what we are known for. There is no better time than now to have your teak furniture restored or protected. Holidays, birthdays, family events, Super Bowl, and other forms of outdoor entertaining are great reasons to have your investment looking it finest all the time. If you have had enough of looking at your dingy furniture, transforming it back to new will add life to your outdoor living areas. Not only will the wood look great and enhance your back yard, it will be clean and new and ready for use and entertaining. It doesn't matter if you're on Newport Beach, Laguna Beach, Los Angeles, San Diego, or Malibu, entertaining on your teak furniture should never take a back seat because of weather.
50 Years of Combined Experience
Teakrefinishing.net is a licensed and insured contractor focusing on high end teak furniture care and maintenance. Our company professionally services museums, residences, hotels, and commercial businesses. Our 50 years of combined experience working with this exotic hardwood allows us to properly inform our clients about restoration techniques, repair, and ongoing maintenance. Our staff realizes your furniture is an investment in your quality of outdoor living and employs the necessary attention it needs. We service all regions and cities of Southern California including Orange County, Los Angeles, San Diego, Newport Beach, Laguna Beach, and Santa Monica. We offer immediate service year round with service at your home or complementary pick up is offered. Many of our employees background includes years of furniture making, staining, deck building, and home building.